Updated: May 1, 2017
Time Warner Cable is now
SPECTRUM
Talk of the Desert is now seen on Desert Cities Channel 1300:
Friday's at 11:00 PM
Saturday 7:00 PM, Sunday 9:30 AM
and Monday at 11:00 PM
(Plus possible other airings when available Channel 1300)
This Week's Show:

Currently airing, Enterainer, Patricia Welch
Upcoming: Dogs for our Brave
In the fall of 2017, it will be 19th Season on Talk of the Desert!
BRAND NEW!!! Now watch current and previous episodes of Talk of the Desert on your computer!
________________________________________________________________________________________
Please note: For Sun City Palm Desert residents: I understand that the whole community has switched to a TV satellite company, except for internet and phone. Please note: For a minor charge, you can continue to receive all of the programming on SPECTRUM Cable by contacting them at 760-340-2225.
Thank you!
---
For current info on this week's guest, Click on This Week's Show link above!
**************************************************************************************************************
Melinda Receives Her Star on the Palm Springs Walk of Stars!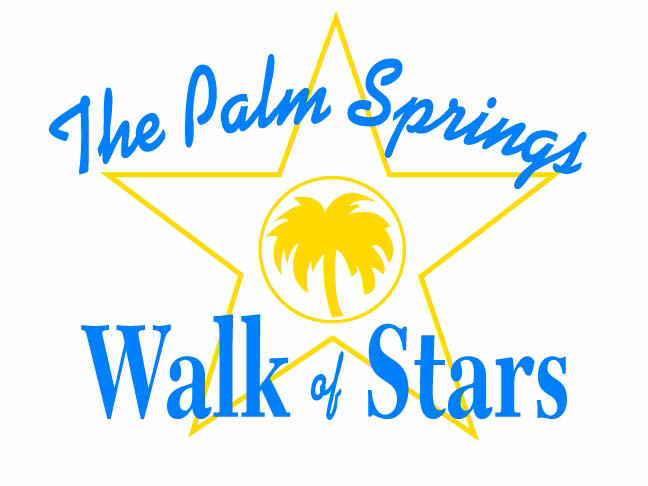 Melinda was honored by receiving her Star on the Palm Springs "Walk of Stars", Saturday, April 30th, 2005 at 2:00 PM . This was to celebrate her 250th episode of Talk of the Desert! Her Star is located at 144 S. Palm Canyon Drive, between Charlie Farrell's and Art Laboe's Star. This was a "sweet" Star unveiling - Right in front of See's Candies! This was the perfect place to put Melinda's Star - she's had Type 1 Diabetes since she was three years old. So a diabetic's Star in front of See' Candies - Perfect!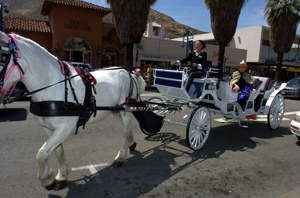 Melinda arrives in style at the Star Unveiling ceremony!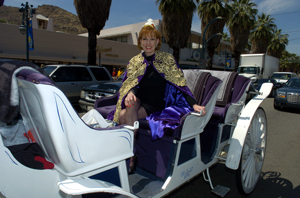 Melinda being a former Mrs. California International, poked fun at herself! Beginning with her STAR in front of See's Candies. See, Melinda has had insulin-dependant diabetes since the age of three. The emcee for the ceremony, Miss Joey English said "Please welcome our Queen for the hour and Queen for the day! In her Burger King "crown" and regal robe, Melinda said after her introduction, "Yes, the Queen has arrived! Let the festivities begin!"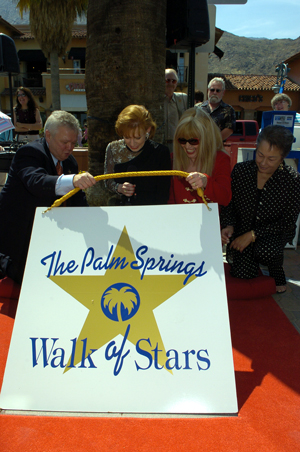 Melinda gets her first glimpse of her Star in the sidewalk on the Palm Springs Walk of Stars! With her left to right: Bob Alexander, President of the Palm Springs Walk of Stars, Melinda, Miss Joey English and Ginny Foat, Palm Springs City Council representing the Mayor. What a thrill and true honor!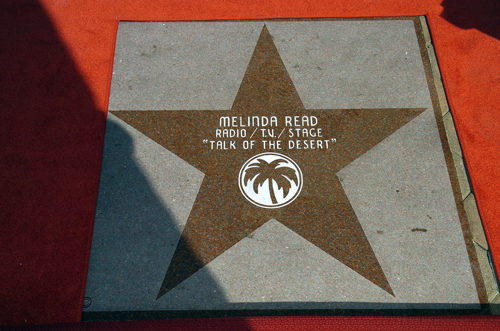 THE STAR!!!!!!
Click for more Star photos. And audio of the ceremony!
Mission Statement:
Talk of the Desert interviews are to highlight celebrity/civic leaders/non-profit agencies who are making an impact in our community and to inform our area of events, history and information of interest without the "gossip"!
I donít believe that a smart watch can compete with a true mechanical hand made watch, because that is just two worlds
Cheap Price Tag Heuer Aquaracer Replica
apart. But no perpetual calendar that I know of handles the ;2100; edge case. Gift Card orders placed
Fake Rolex Watches For Sale
after 3pm ways will be delivered to
best cartier replica watches
mainland uk addresses within 2 . For Baselworld 2015, Omega is coming with†a new edition that celebrates the 45th Anniversary of the unfortunate Apollo 13 mission. As you understand the Portuguese and Pilot series carry the c. Thereís a good chance you heard that name before in relation to other 1970ís sports watches, as they watch also produced the bracelets for Heuer chronographs and the Audemars Piguet Royal Oak ref.
Talk of the Desert with Melinda Read is the premier syndicated celebrity guest television program. Tune in 24/7 on this website!