Melinda Read Day in Palm Springs!
Palm Springs Walk of Stars
April 30th, 2005
More photos Page 3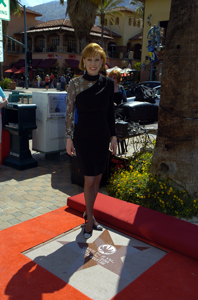 Melinda walking all over herself!
RECEPTION PHOTOS:
The TALK of the DESERT DESSERT Reception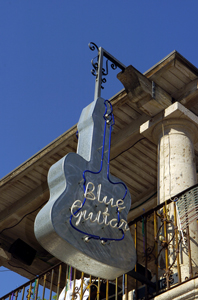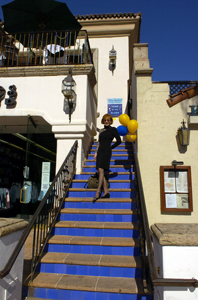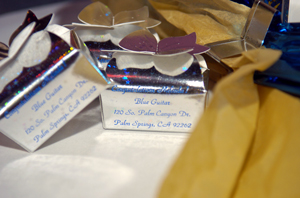 The BLUE GUITAR was the place!!! Melinda standing at the front stairs and the beautiful candy box party favors that the owners gave to everyone!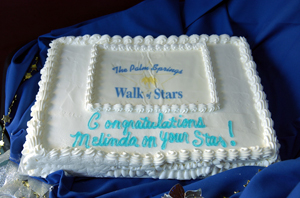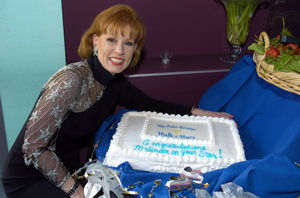 THE CAKE!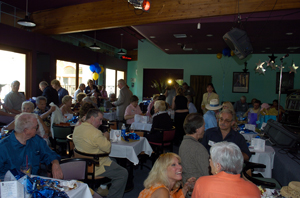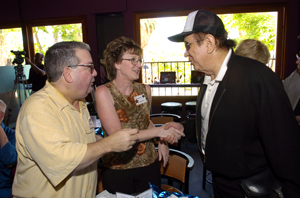 The crowd attending the reception! The CAR NUT, Steve Parker and his wife Carey meeting Trini Lopez! Steve also has a show on Time Warner TV 10!
The FUN started when Melinda invited all of the Palm Springs Walk of Stars Honorees on stage!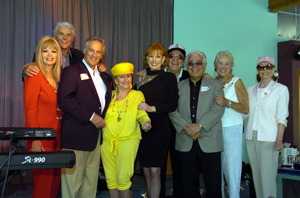 Left to right: Joey English, Frankie Randall, Bill Marx, Ruth Gibson, Melinda Read, Trini Lopez, Jerry Vale, Jan Forbes, Susan Hart.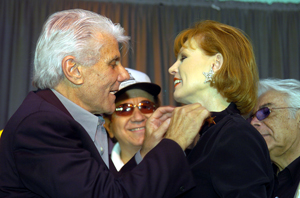 Melinda feels a part of a very special group of people, like a sorority or fraternity. She asked Frankie Randall to "pin" her commemorative STAR lapel pin on her as Trini and Jerry look on!
Now it was time to honor one more person - But to do that, Melinda invited Buddy Greco to the stage.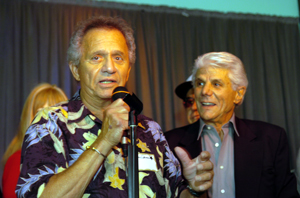 Buddy HAD to tease Melinda - He told her that she was the BEST, the BEST WORST singer he has ever heard! (Sadly, it's TRUE!)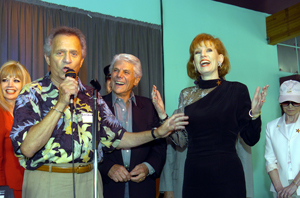 The main reason that Melinda invited Buddy on the stage and also highlighted Frankie Randall and Trini Lopez is that all three of them are inductees into the Casino Legends Hall of Fame! The Museum has been located at the Tropicana Hotel in Las Vegas, but is moving to a new location. Each inductee has been given their photos that hung in the museum. Both Buddy and Frankie had already received theirs, but Trini had not. So Melinda presented Trini's photo to him that day! He was really touched!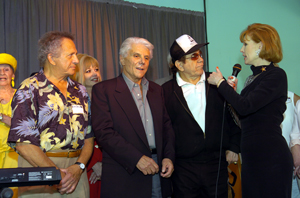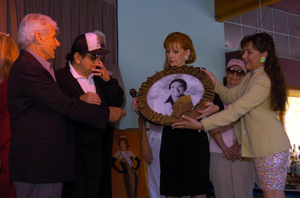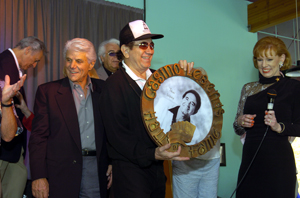 Then it was music time! Frankie and Buddy joined each other at the keyboard and the microphone was passed around for fun jam session!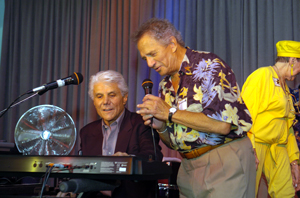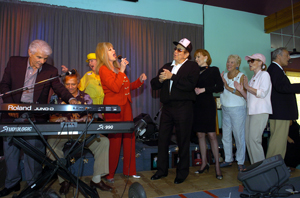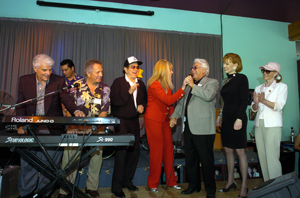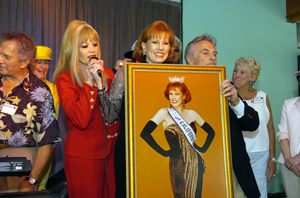 Bill Marx grabs Melinda's photo of her as Mrs. California International 1996! So what do you think for being 9 years later?!
A BIG THANK YOU to Johnny Meza and Lola Rossi for adding their musical talents to the reception!
Melinda wants to THANK EVERYONE from the bottom of her heart who made her day so special! And for making her feel like a STAR, but it's truly her guests that are the STARS of her TV show!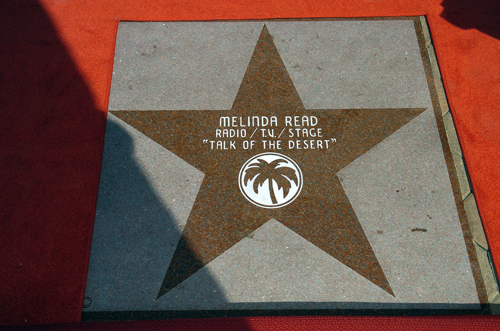 ALL photos by Ned Redway!